Russian art, chess and sustainability in Saint-Emilion

The French architect Jean Nouvel is creating works of architecture to be included in their natural environment. He has recently completed the Vat, the Cellar, the Belvedere and the Fort of the Château La Grâce Dieu des Prieurs located in Saint-Emilion, by laying them around the original Bordelais house, like a farmyard.
After having bought the wine estate, Andreï Filatov commissionned Jean Nouvel with the mandate to enhance the work of the men: in homage to the employees of the Château, a fresco, showing the real pictures of the first harvest, is screen-printed on the external façade of the Vat, made from polished stainless.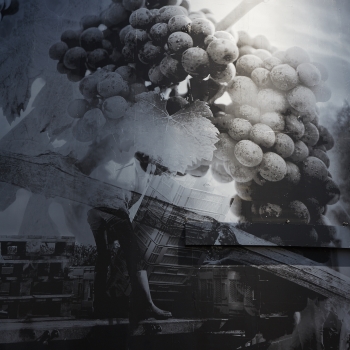 The floor inside is painted with a multi-coloured anamorphic work which, by reflection on the Vat, represents Youri Gagarine's face, whom the Russian businessman and philanthropist greatly admires.
The wine estate is practising lean farming and care for the vine, taking into account the cycles of nature and climate. The harvesting is entirely by hand, the crushed grapes are put into the tank and the wine is extracted with the gravitation method.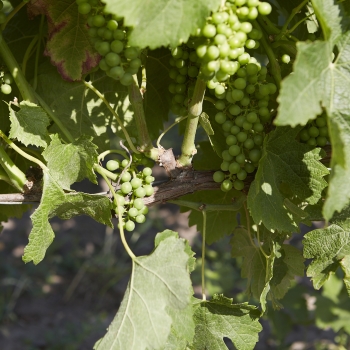 The Château is always improving its grapes and wine transport techniques, until the bottling in the Fort.
The shape of the bottles is a copy of the original shape of the Bordeaux wine bottles, brought back by the Russian czar Peter the Great, after he visited Versailles in 1717. Located in the basement of the Vat, the Cellar is exhibiting the various vintages.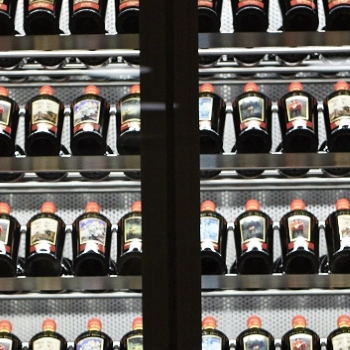 Andreï Filatov has three passions: the wine, the chess and art. He is collecting works of Russian Art created between 1917 and 1991 in his Foundation, located in the United Kingdom: every year, twelve paintings are chosen to be printed on the wine bottle labels. The twelve-bottle box figures a red and gold chess board, as it was customary in Russia.
Art Russe Grand Cru Château La Grâce Dieu des Prieurs >>
Friday 6 July 2018, 16:55