A statuette by Chopard made with Fairmined-certified ethical gold

On last September 22, took place the third edition of the Green Carpet Fashion Awards, Italia at La Scala: the trophy by Chopard is made with Fairmined-certified ethical gold, aluminium and glass.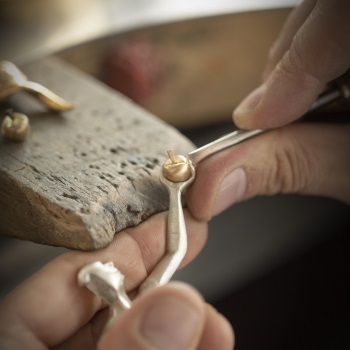 At the end of the Milan fashion week, the Green Carpet Challenge awards the changemakers, disruptors, forward thinkers and organisations that are shaping the fashion industry and steering it towards a sustainable future. A number of prestigious attendees (*)descended upon Milan's iconic La Scala where twelve awards(**) were presented during the ceremony.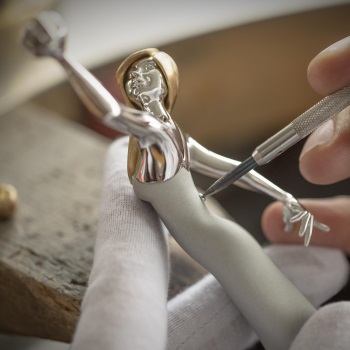 The green carpet covered Piazza La Scala using more than 2,000 square metres of ECONYL ® regenerated nylon and all plants and flowers used in the production of the event have been donated to the City of Milan and re-planted after the awards.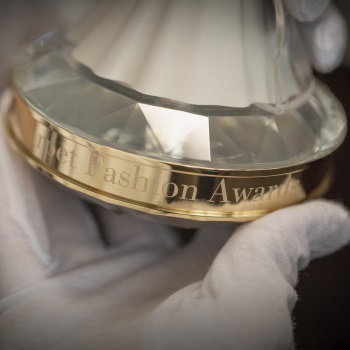 For this trophy, the Haute Joaillerie ateliers of the Maison Chopard designed a woman, whose long braid is produced in Fairmined-certified ethical gold. Draped in a long robe made of aluminium to lend a lighter touch, the silhouette of this 21st century heroine evokes the models sketched by fashion designers. She appears surrounded by a halo, borne by a glass cape featuring engravings evoking a golden apple tree.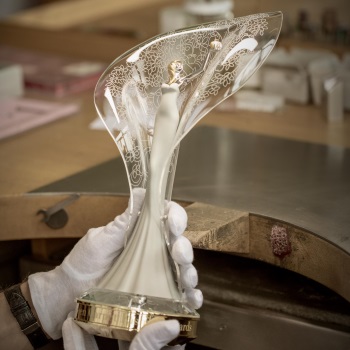 Photos © Chopard
Chopard >>
Ethic and Palme d'Or at the Cannes Film Festival >>
(*) Adut Akech, Jon Kortajarena, Stella McCartney, Dame Anna Wintour, Valentino Garavani, Sophia Loren, Alessandra Ambrosio, Doutzen Kroes, Colin Firth, Shailene Woodley, Barbara Palvin, Elsa Hosk, Amber Valletta, Candice Swanepoel, Eric Underwood, Sinead Burke, Olivia Palermo, Ian Somerhalder, Nikki Reed, Pixie Geldof, Jess Glynne, Kat Graham, Lea T and Toni Garrn
(**) Valentino Garavani, founder of fashion brand Valentino, accepted the prestigious Legacy Award for his iconic work, spanning five decades, championing Italian design and fashion. The award recognised the quality and durability of his label's creations and the legacy of these pieces being passed on for generations – the opposite of fast disposable fashion. Valentino was presented on stage by icon Sophia Loren.
The GCFA Groundbreaker Award was won by Stella McCartney, presented by Colin Firth and Amber Valletta, for her pioneering work. Since the beginning of her career, McCartney has diligently mapped the industry and used evidence to make ground-breaking interventions that lighten the impact of the fashion supply chain and reconfigure it for the future.
The Art of Craftsmanship Award was given on stage by Pier Paolo Piccioli, Creative Director at Valentino and long championing craftsmanship in his atelier, to Pino Grasso. For the last 60 years Grasso has championed artisanal embroidery done by hand, Pino Grasso is seen to not only preserve traditional handicraft, but also by avoiding machine embroidery, Grasso minimises carbon emissions.
François-Henri Pinault, Chairman and CEO of Kering was awarded the GCFA Visionary Award by Ginevra Elkann. Pinault has allowed sustainability to become a core part of the market value rather than a cost of doing business. He has created powerful tools, such as the Environmental Profit and Loss methodology, in remodelling the fashion industry in favour of the environment.
This year's North Star award, presented by Colin Firth and Lea T, acknowledged two of the most important academic and political research developments in the last 12 months; NYU Stern's report – Made in Ethiopia: challenges in the garments industry's new frontier (May 2019) and The Union of Concerned Researchers in Fashion for its tireless and diligent work in aims to change the face of fashion.
The Healthy Seas divers arrived on stage where they were awarded the Circular Economy Award by Prada's Lorenzo Bertelli, for the heroic story of skill and courage of their specialist team of divers. Divers collect discarded ghost fishing nets that are then combined with other nylon waste and regenerated into ECONYL ® yarn by Aquafil and used throughout the fashion and textile industry.
The Social Media Changemaker Award was presented by Royal Ballet dancer Eric Underwood and activist Sinead Burke to Doutzen Kroes. The award was established this year and rewards those using social media for social good. Kroes is currently at the forefront of creating change through the platform of social media, securing billions of impressions for environmental and social causes including groundbreaking campaign #KnotOnMyPlanet.
The Responsible Disruption Award was won by I Was A Sari and presented by actress and singer Lou Doillon. I Was A Sari's inspiring journey was developed by Stefano Funari in Mumbai where women who were previously excluded from embroidery schools were finally given access to train. programme has created a legacy of social empowerment and commitment to the circular economy by upcycling saris and empowering women long term.
Other awards presented during the evening include the Technology and Innovation Award won by Sicit x SprintItaly, the Franca Sozzani GCFA Award for the Best Emerging Designer won by Flavia La Rocca, the CNMI in Recognition of Sustainability Award won by Zegna x Use the Existing Project (Alessandro Sartori) and MaxMara for their Cameluxe programmeand the Eco Stewardship Award won by The Gondoliers of Venice.
Sunday 29 September 2019, 14:11