Charity auction of the designer Christmas trees, on exhibit until November 20th, 2018 at the Plaza Athénée

Marie-Christiane Marek and the Comité Montaigne present Les Sapins de Noël des Créateurs, under the patronage of Pascal Morand, Executive President of the Haute-Couture and Fashion and Professeur David Khayat, Charte de Paris against cancer founder and president. The art works will be exhitibited until November 20th at the Plaza Athénée in Paris, where the auction will take place.

Placed under the sign of the heart and the red, the 2018 edition presents drawings, sculptures, installations, unique pieces of dress or furniture, of an amazing diversity. Yanina Couture is offering a real pine, with Christmas decorations and traditional Russian dolls, wearing the hand made last collection of the brand.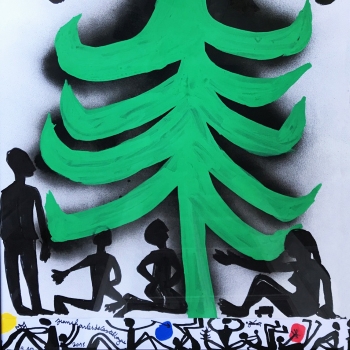 Jean-Charles de Castelbajac has painted a joyful and colourful Christmas tree, where is reflected his life poetry.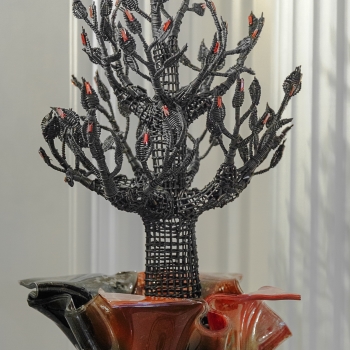 The Franco-Chilean fashion designer Octavio Pizarro has imagined a tree of life, inspired by the araucaria also called gold-leaf tree, whose legend tells that it gives the secret of life to those who discover it. The sculpture is made from knitted rattan, handcrafted in Chili, and Swarovski crystals on each branch. The glass vase has been made by Octavio's mother, who is master glassblower.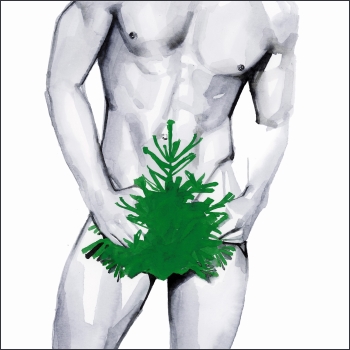 In addition to the illustration of the poster, Marc-Antoine Coulon has offered a very personal playful Christmas tree, under the form of an illustration entitled: Roi des Forêts (King of Forests).
Photos © Sapins de Noël des Créateurs
Les Sapins de Noël des Créateurs
Plaza Athénée >>
Monday 19 November 2018, 11:04