Christmas in the Chateau de Cheverny's vegetable garden, until January 14, 2019

The vegetable garden has been conceived by the Marquise de Vibraye and laid out in 2004, in the former allotments: decorative or edible flowers, vegetable of today or forgotten ones are grown without chemicals and with aquaponics. For Christmas, the vegetable garden has been decorated by coloured stripes that alternate with branches of coniferous trees.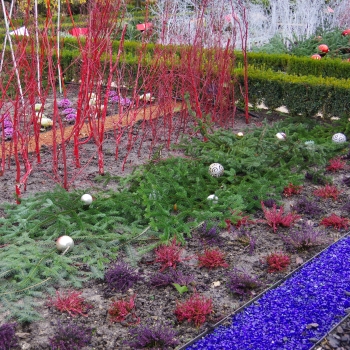 A fir fell on the floor due to inclement weather: its branches have been upcycled to create deep green stripes, that contrast with the blue crushed glass, the black broken slate and the orangey brick to redesign the vegetable garden. Christmas decorated trees surround the stone fountain, inherited from the past centuries.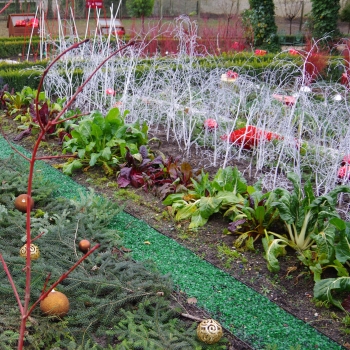 A contemporary ornemental garden has been designed by the landscape architect Magali Fuchs and created in 2006: it is located between the chateau and the orangery, at the precise place of the former French garden, according to documents found in the chateau. Called the Apprentice garden, it is dedicated to aprenticeship: some of them are sometimes integrated in the staff of the domain, at the end of their studies.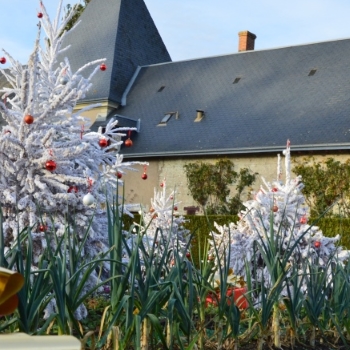 The English style park is true to its original plans, with lime trees, sequoias and cedars, planted between 1820 and 1860 by the ancestor of the Marquis de Vibraye, since the chateau belongs to the family for six centuries. It is possible to silently visit the park by electric cars and boats, without disrupting wildlife. Decorated Christmas trees, a life-size Nativity scene are installed next to the chateau and a spectacular Advent calendar which reveals a new Christmas photo every day.
Photos © Anne-Laure Faubert - Food de Culture >>
Christmas at the Château de Cheverny >>
Monday 10 December 2018, 10:40