Kering holds first "K Generation talk & Award Ceremony" for sustainable innovation in China

Kering and global innovation plarform Plug and Play have recognized three Chinese startups, for their disruptive innovations addressing sustainability challenges in the textile value chain.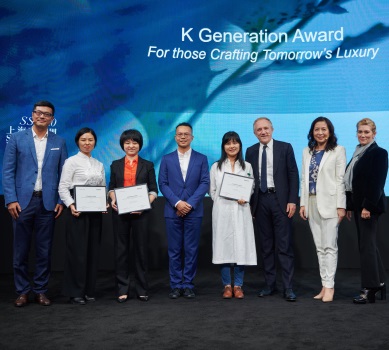 The "K Generation Award aims to accelerate sustainable innovation in the luxury and fashion sectors in China. Melephant, the first awardee and winner of a 100,000€ grant, provides natural dyes from organic waste in a circular, no-waste system. Second awardee, Heyuan has an innovative water treatment technology for printing and dyeing. Third awardee, FeiLiu Tech offers supply chain optimization through artificial intelligence that allows for small batch runs to avoid over production.
The "K Generation Talk" aims to address key issues on sustainability innovation. In addition to jury members, leaders in business and sustainability including François-Henri Pinault, Chairman and CEO of Kering, Christine Goulay, Kering Sustainable Innovation Senior Manager, Li Shiyang, Chief Representative at RARE, Simon Chen, GM of Indidye, Yeh Shaway, Founder of YehYehYeh, Michael Olmstead, Chief Revenue Officer, Plug and Play and Peter Xu, Director and CEO, Plug and Play China were invited to share their own insights and experiences.
Jury members included Cai Jinqing, President of Kering Greater China; Burak Cakmak, Dean of Fashion at Parsons School of Design; Hung Huang, a writer and top media influencer; Ma Jun, Founding Director of the Institute of Public & Environmental Affairs; Katrin Ley, Managing Director of Fashion for Good; Susan Rockefeller, a well-known figure in the world of art, philanthropy and sustainability; Wang Shi, Founder, Vanke Group; Wang Zhen, President of Erdos Cashmere Group; Yin Guoxin, Chairman of Chenfeng Group.
Photo © Kering
Tuesday 15 October 2019, 20:20