Limited edition of the solidary Kusmi tea box, designed by Chantal Thomass

In the framework of Pink October, Chantal Thomass has designed the spearmint green tea with rose petals for Kusmi Tea. 100% of the benefits will be forwarded to non-profit organisations, including the association "Le Cancer du Sein, Parlons-en !" in France(*).

Since 2015, Kusmi Tea is supporting Pink October and has begun its partnership with Chantal Thomass in 2018. For this second year, the iconic French chic lingerie fashion designer has revisited the tea box, until the logo, which has been redrawn with a pattern of lace.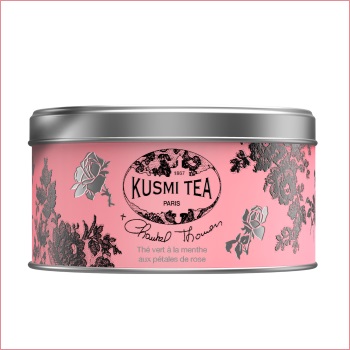 Since it was founded in 1867, the tea house has specialised in blends. Attentive to the quality of its products, she purchases only from producers who strictly meet safety standards. Since 2018, to move further, the company has initiated a specific partnership with WWF, to check that the entire supply chain is based on responsible community practices. The firm has also developed a partnership to collect and recycle the caps, that will be upcycled into urban furniture, benches and children's playgrounds.
The tea box will be available from October1st to December 31st, 2019.
(*) The rest of the benefits will be forwarded to international non-profit organisations where Kusmi Tea is represented.
Photo © Kusmi Tea
Tuesday 1 October 2019, 14:47