Wilderness Safaris opens six hyper luxury eco-lodges in Rwanda, built in the middle of nature

Dian Fossey has highlighted the emergency to protect the great apes in the Virunga mountains. The preservation of this threatened specie, which cannot live in captivity, has been the starting point of the project Bisate Lodge.

The domain has been purchased, parcels by parcels, to over a hundred of owners and a reforestation program has been run to restore the original flora of the region. The purpose was to reintroduce birds, butterflies and small animals, who initially lived in the area, by offering them the best environment. The sellers of the parcels have been involved in the reforestation project.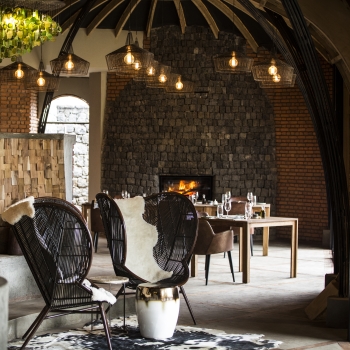 An Environmental Impact Assessment (EIA) has been conducted to minimize the carbon footprint ever since the lodges were built. The architecture made from natural local materials has been inspired by the thatched roofs of the royal palace of the traditional monarch. A Rwandan design studio has been entrusted to purchase unique local pieces of furniture in the whole country.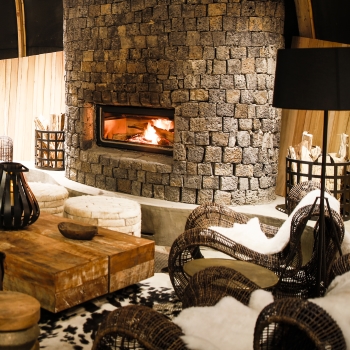 There are ten groups of habituated mountain gorillas in Volcanoes National Park with just eight visitors permitted to trek to each group every day.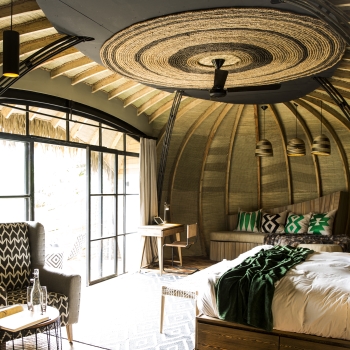 3: sewage treatment plants installed, thus avoiding contamination of the environment, and recycling and cleaning waste water through biological cultures, aeration and UV treatment.
12: habituated gorilla groups that can be tracked and observed in nearby Volcanoes National Park.
42: hectares on which Bisate Lodge is built. The intriguing and varied topography shields the lodge from any unnatural disturbance, blocks out light from the distant village of Kinigi and the town of Musanze and gives guests the sense of being actually inside the national park.
43: current number of permanent employees of Bisate Lodge. 50% come from the local community and have never worked in tourism before.
115: landowners who sold their plots to Wilderness Safaris under the supervision and guidance of the Musanze District Authority, the National Land Centre and the Tuzamurane Cooperative.
150: meters of Rwandan "kitenge" fabric have been used to create the staff uniforms.
172: plots of land purchased to create the base of the Bisate reforestation and lodge project.
250: people from the local community employed on a daily basis during construction of the lodge over a nine-month period.
300: members of the broader Bisate community that make up the Tuzamurane Cooperative, which is the conduit through which all business is conducted between Bisate Lodge and the Bisate Community.
358: number of recycled glass bottles used to create the chandelier in the wine cellar.
360°: the view from the top of the hilltop plateau, of the entire Musanze District and all 6 volcanoes of the Virunga massif: Karasimbi, Bisoke, Mikeno, Sabyinyo, Gahinga and Muhabura.
17 500: number of trees planted – as of end of February 2018 – as part of our visionary reforestation project.
$580 000: financial injection into the local economy as a result of the land purchase. The impact on the community is thus dramatic and far-reaching. Per hectare, the price paid for the land is more expensive than land in the Sabi-Sand Game Reserve.
Photos © Bisate Lodge
Sunday 27 May 2018, 19:53