Mandarin Oriental Bodrum: ultra-luxurious eco-responsible hotel in the nature, with two private beaches in Turkey

Located on the North shore of the Bodrum peninsula, the Mandarin Oriental is facing the sea. Surrounded by a pine and olive tree forest(*) of 60ha, the resort has two private beaches.

The hotel took an environmental approach since its building, the architecture is fully integrated in the landscape, with small houses scattered all over the hill. Wastewater is treated to be used for irrigation, an innovative water-sourced, heat-pump cooling systems take full advantage of the temperature differences between the hotel environment and the local seawater to ensure that energy is consumed at the minimum possible level. The separation and management of waste is carried out to maximise recycling and to reducing its carbon emissions.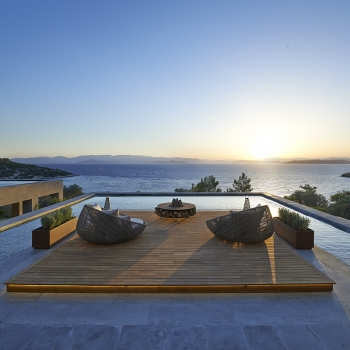 Rooms and suites are completely unoverlooked with a view on the Egean sea, green roofs provide a solft insulation, to protect the inside from the hot summer. It is possible to go to the beach by silent electric car.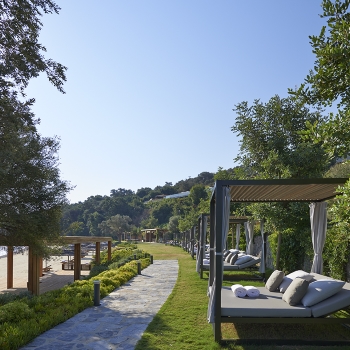 Chef Leonardo Concezzi and his team use local, seasonal, natural and (where possible) organic products. The hotel also benefits from an on-site organic garden providing fresh products for the kitchen, as well as a garden for sourcing all-natural, hand ground ingredients for use in the spa.
Hôtel visited en 2016.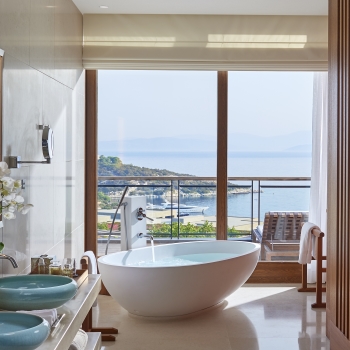 (*) There are over 100,000 trees and one million native plants on the domain
Mandarin Oriental Bodrum >>
Saturday 17 March 2018, 15:07