100% organic olive oil Marseille soap, cooked in the caldron

L'Olivier de Leos offers natural Marseille soap cubes, containing 72% of vegetal oils. No colouring nor fragrance are added.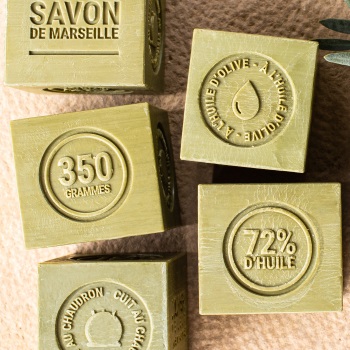 The maison includes a rare olive grove with three thousands trees of all ages, some of them centuries old: it has naturally enriched its Marseille soap with its own olive oil rewarded by nine gold medals and with olive tree leaf extracts, for their complementary nourrishing and protective properties.
The unique milling process in three steps optimizes the mix of ingredients and allow the soaps to be smoother, with a rich and creamy foam and a longer use duration. The formula does not include any ingredients of animal origin and has not been tested on animals.
The Domaine Leos has an ambitious sustainable approach: furthermore the olive grove, it has planted a vineyard, built hives to enhance biodiversity and includes a permaculture vegetable garden.
Photos © Domaine Leos
Sunday 27 June 2021, 08:56