Michelin-starred chef Thierry Marx speaks about his social school and his "small" producers

There is no need to present Thierry Marx, Michelin-starred cooker whose simplicity and vision of excellence are equivalent. Executive chef of the restaurants of the Mandarin Oriental situated in Paris prestigious 1st district, he receives us in his culinary school, located in the working-class 20th district.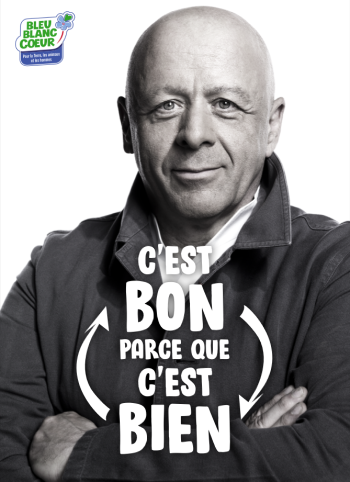 In here, he trains young or old alike public, statutory migrants or accidents in life path, who are sometimes very far from employment. All those who are below the state radars learn a job there, following a surprising educational career. No computer in the premises, no programme classroom lecture, but a hudge kitchen which is worthy of a palace one and apprentices dressed in white all focused on their work. The curriculum is free and allows to acquire basic cooking or bakery pastry skills within 12 weeks.
91% of them will find a job after the training out of whom 7% will run their own business. The reason is that they are immediatly plunged into professional conditions since the very first minute, which is 6h00 for future bakers. For their part, cookers being trained are to design a menu for the application restaurant open at lunch.
The philosophy is summed up in three letters: RER for Rigour, Engagement and Regularity. During 12 weeks, neither absence nor delay is accepted. The final exam allows to obtain the professional qualification certificate and the training is supplemented by a work placement in an enterprise.
"Everything is small for a Michelin-starred cooker" Thierry Marx explains. "Before then, I also had my 'small' coffees, my 'small' juices, my 'small' sauces and my 'small' producers, that were working only for me. When I launched the social school Cuisine Mode d'Emploi, I met a public who was so far from healthy food that I had to change my own software." It is at that moment that he met Pierre Weill, agricultural ingeneer and docteur ès health biology, founder of the Bleu Blanc Coeur association.
Founded in 2000, it was born from a fact, we are what we eat and the quality of the food of the chicken or the cow contributes to the health of men, women and babies. Its action is to scientifically verify the quality of the products and to ensure that farmers obtain a fair return for their produce. 30 independant scientists are associated with the governance of the association out of whom a permanent representative of the INRAE(*) president. The business model is the same as an NGO one which is 100% independant. It brings together 7 000 farmers in France and references 2 100 products. The concept is internationally deployed in a dozen of countries from Europe to Indonesia through Colombia.
"Bleu, Blanc, Coeur, it is good because it is true" the chef explains. As to whether he cooks Bleu Blanc Coeur products in the Sur Mesure by Thierry Marx kitchens, the answer is immediate "Of course".
(*) INRAE : Institut national de recherche pour l'agriculture, l'alimentation et l'environnement
Photo © Cuisine Mode d'Emploi
(*) INRAE : Institut national de recherche pour l'agriculture, l'alimentation et l'environnement
Cuisine Mode d'Emploi >>
Bleu Blanc Coeur >>
Tuesday 31 October 2023, 18:03