Backstage at the Cannes Festival jury dinner with food and ceramics pairing

Every year, Christian Sinicropi chef of the restaurant La Palme d'Or, conceives the jury dinner menu according to the filmography of the chosen president. With his spouse who is ceramist, he creates exclusive and unique dishes to serve it. To show the respect that he has for food, he qualifies it as "notable" instead of "edible" and prevent it from going to waste.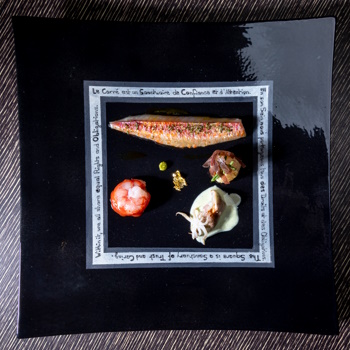 It all begun twenty years ago, when Tim Burton was named president of the jury. His cinematographic universe was so fascinating for Cathy Sinicropi that she spontaneously proposed to create matching dishes inspired by his films. At the end of the dinner, Gilles Jacob who was at that time president of the festival, concluded that he was waiting for the same the following year. It all grew from there.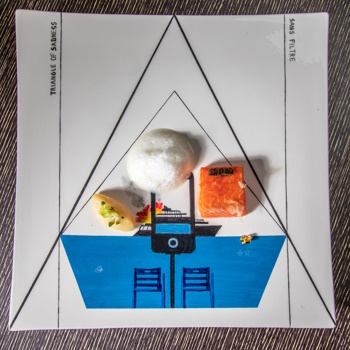 As soon as the jury's president name is published, the chef and his spouse start going to the cinema to dive into the world of the film maker or the actor. They select one or two films that will inspire the menu for the chef and the matching dishes which is a common creation. The personal universe of Swedish film maker Ruben Östlund is humanly rugged. It appears obvious to the chef that the "entrée" should be raw food. The name of the film "The Square" which drove the creation is written on the side or the dish. The main course was inspired by "Triangle of Sadness" and the idea of the movie star chairs on the sea bed was Cathy Sinicropi's idea.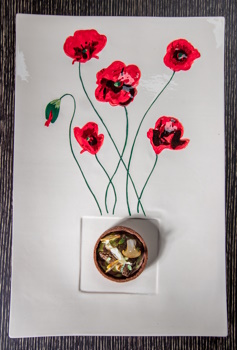 Christian Sinicropi is a culinary "nose" and works like perfumers, with the same tools that he has customized to adapt them to his cuisine. He partners with the Université de chimie et de biochimie of Nice on the French Riviera to work with students to continue his research. He and his spouse have been awarded with the Cannes Festival Medal in 2023.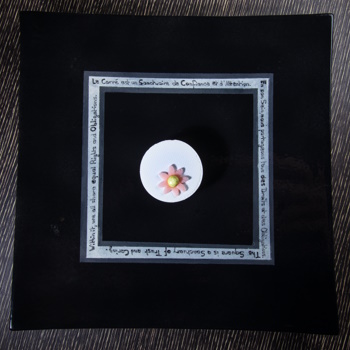 Photo 1 : Le Cru Marin et le Pin Maritime dans le carré (The square is a sanctuary of trust and caring)
Photo 2 : La truite du Vaucluse juste rosé aux soupçons de tourbes fumée, cèleri aux notes originelles (Triangle of Sadness)
Photo 3 : Tartelette chocó Forest.
Photo 4 : Fleurs et fraises des bois (back to The Square)
© Hôtel Martinez, La Palme d'Or
Friday 19 May 2023, 08:32