Chopard awarded at the Sustainable Style Gala of Maison-de-Mode

Chopard co-president and creative director Caroline Scheufele has been honoured with the Designer of the Year award. The ceremony was hosted by the ethical fashion retailer's founders Hassan Pierre and Amanda Hearst of Maison-de-Mode.

Since 2013 alongside Eco-Age, the watch and luxury jewellery company forged a philanthropic relationship with influential South-American mining NGO, the Alliance for Responsible Mining (ARM), to directly support mining communities to reach Fairmined gold certification, as well as providing training, social welfare and environmental support. This commitment named "The Journey to Sustainable Luxury" allowed Chopard to announce in July 2018 that it will use 100% Ethical Gold in its new jewellery and watches creations, with a traceability of raw materials beginning at the start of the supply chain.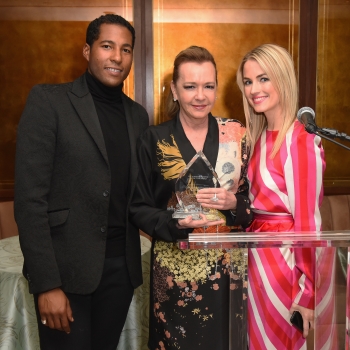 This second edition of the annual Gala which took place in Los Angeles on last February 23rd, saw leaders come together to celebrate sustainability and has also awarded Dr Jane Goodal with the "Sustainable Style Prize" for her innovative work.
Photos of "Caroline Scheufele is awarded Designer of the Year" and "Hassan Pierre, Caroline Scheufele and Amanda Hearst" © Chopard
Maison Chopard >>
Ethic and Palme d'Or at the Cannes Film Festival >>
Friday 8 March 2019, 11:00