Christmas fairy inspired by opera, by order from December 1st, 2018

The Yule log of the Evian Resort is a fairy composed of Piedmont hazelnuts, Bergamot lemon, an exclusive chocolate produced in a limited edition and biscuit. The Pastry Chef Stéphane Arrete took inspiration from the Sugar Plum Fairy of The Nutcracker ballet.
The seasonal ingredients are sourced locally: the hazelnut is purchased directly from local producers in Piedmont, the Bergamot lemon is a particular variety of lemon which grow only in December and January, the fleur de sel comes from Guérande and the chocolate is an exclusivity of the limited edition "the cuvée du sourceur".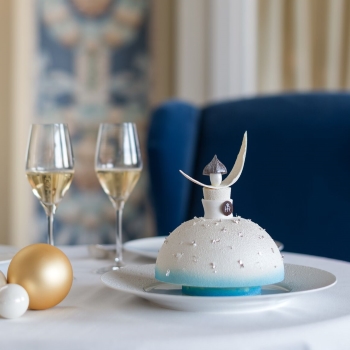 The bond between the hotel and the classical music is natural: the auditorium "Grange au Lac" has been built in 1993, to welcome the guests in a place devoted to opera, in the frame of the Rencontres Musicales d'Evian set up by the town from 1976. In 2018, during the festive season, the decoration and cuisine of the hotel will be inspired by the imaginery ballet.
Photos © Royal Evian Resort
Monday 15 October 2018, 11:40