Electrical smart-bike with GPS and integrated security lights

Angell offers a smart-bike that contains an application with a GPS, security lights, a fall alert and a geolocalisation in real time. The battery is removable, all is made in France except for the battery components to focus on the shortest cycle. 5% of the revenues will be dedicated to support innovative startups through a call for tender.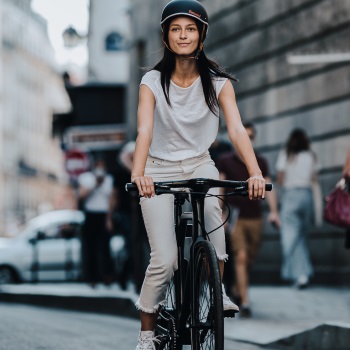 The idea of launching a smart-bike was founded on a number of comments: the average speed in Paris by car is 14km/h (8.5 miles per hour), we lose each year a whole week in traffic, 43% of CO2 emissions come from individual combustion vehicles and 75% of daily trips do not exceed 5km (3 miles).
Drawn by Ora Ito(*), the vehicle has a dashboard in the middle of the handlebar which gives access to all functions of the embedded intelligence dedicated to security: hyperbolic lights and smart signals, front and back, are integrated in the cockpit and the battery, vibrating cockpit allows the driver to keep the eyes on the road, breaking lights and warning lights are automatically activated if necessary and a fall alert will send a text to the emergency contact in case of accident.
To prevent theft, it is possible to actuate the smart-bike automatic lock-up that turns on a loud and visual alarm signal in case of attempted theft. The geolocation and motion detectors allow to know if the bike has been moved and where it went in real time. The battery is rechargeable in two hours and depending on the autonomy varies from 50km (31 miles) to 90km (56 miles) according to the driving mode.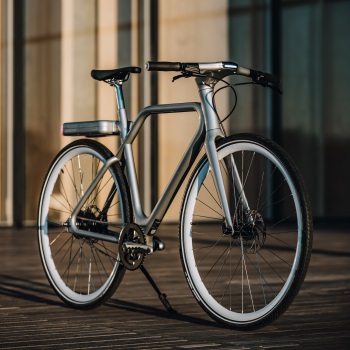 It was impossible for Marc Simoncini, who initiates the launching of the smart-bike, not to simultaneously settle Angell Lab, a philanthropic structure dedicated to startups, to which he allocates 5% of the business revenues. A first call for proposals was launched just after the lockdown, to generate solutions around the smart-bike and two winners were selected: Luminokrom, who has developped a photoluminescent painting, which secret industrial recipe is fully ecofridenly and that allows to be seen from far even on a dark night and Wheelskeep which sets up ephemeral bicycle or smart-bicycle parks.
(*) Famous French designer
Photos © Angell
Wednesday 9 September 2020, 11:26