Limited edition of edible sculptures made with honey from the Château de Chambord on sale from September 17, 2021

The Pastry Chef Sébastien Gaudard has created a scupture in the form of a bee nest made with honey harvested from the park of the Château de Chambord. Named La Ruche (The Hive), it is on sale in a limited edition in Parisian shops of the Pastry Chef.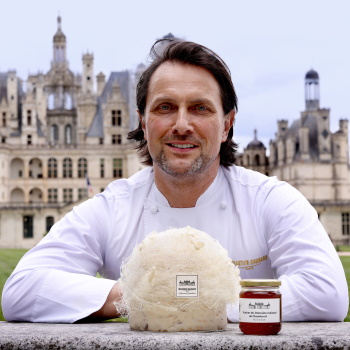 The hives have been set up in 2015 on parcels of heather, far from the public and the monument, to preserve the tranquillity of the bees. Acacia, oaks and chestnut trees complete the biodiversity of the place in the nearness of the colonies that are raised without antibiotics, and where acaricides and pesticides are prohibited.
Harvested end of August, the honey of oak with a flowery taste due to heather and rich in oligo-elements, is the main ingredient of the gastronomical dessert to which has been added almonds, hazelnuts, roasted pistachios, Amarena cherries and candied fruits from Corsica. The straw is made of pearly sugar, bees and flowers of almond paste.
Photos © Château de Chambord
La Ruche from September 17, 2021 in a limited edition >>
Wednesday 22 September 2021, 09:12