Limited edition of reusable bottle sold to fund an education program in France and in Greenland

Qwetch launches "Banquise" (Pack Ice) a stainless steel bottle collection, out of which the one with a polar bear will allow to finance the education program "Protect Ice & Reduce Waste" dedicated to school children in France and in Greenland.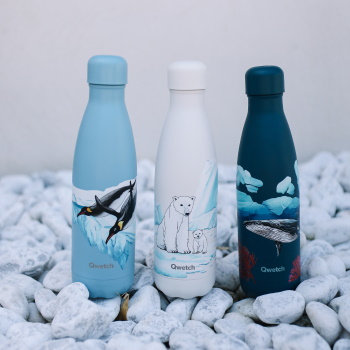 Containers are made of stainless steel harmless to health, and the silicone seal to preserve leak-tightness is only embedded in the top, in order to never get in touch with mucous membranes; it is recommended to transport the bottles in a vertical position to prevent it from beeing in contact with the content. Two euros per bottle "Polar bear" sold will be donated to For my Planet.
In partnership with the brand and in the frame of the programme "Protect Ice & Reduce Waste", the association will help chosen pupils become environmental ambassadors in their educational institution. From September 2021, school children from France and from Greenland will propose a project on the theme of ice melt: they will first come up with solutions by themselves, then meet scientists for expert advice and prepare a 45-minute lecture with communication tools so that they can talk about their experience to various audiences, schools, enterprises or nursing home.
Photos © Qwetch © Ismaël Khelifa
Monday 29 November 2021, 06:38