Luxury brands build on CSR to reinvent themselves

Corporate and social responsibility is not a punishment but an excellent opportunity to reinvent oneself: luxury brands related their commitments during discussions of the Centre du Luxe et de la Création on last December 8th in Paris.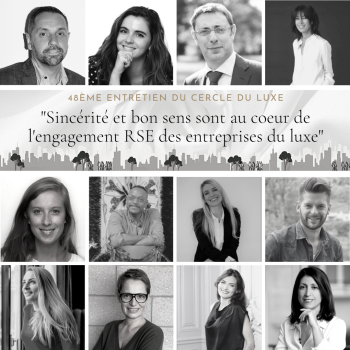 Everything begins with regulations for purposes of leaving the linear model, to extract, to manufacture, to consume and to throw away. There is an acceleration of legislation since 2018 in France, with the Plan Biodiversité (Biodiversity Plan) and the Loi Climat & Résilience (Climate & Resilience Law) that focus among others on the banning of plastic packaging or microballs contained in the cosmetic products. If there are endocrine disruptors in a formula, they must be indicated on the wrapping. These laws and decrees meet expectations of the customers who look closely at the sustainability of a product, especially in the world of luxury.
Measures impact the whole production chain, starting with the eco-design, which must not only deal with the sourcing of raw material but reconsider all the processes: to create an ultra tight weaving allows the material to become waterproof without having to apply an impervious coating, hemp can sustainably substitute cotton which is a water intensive crop, resistant natural dyes have been developped.
As of now, the impact on sales is posivite: 50% of the clients have already switched to buying products that respect the environment and the maisons no longer hesitate to communicate about their advances. Luxury is in essence sustainable and has to remain a pioneer, brands which today overlook sustainability will disappear.
Photo © Centre du Luxe et de la Création
Centre du Luxe et de la Création >>
Wednesday 14 December 2022, 09:03