Michelin-starred Haute-Cuisine served in a moving cable car in the French Alps

The chef Jean Sulpice offers to book a dinner for four people, served in the cable car Les Orelles in motion towards the Caron peak on December 19th, 2021. The booking will only be validated by drawing of lots, to which it is possible to participate until December 12th.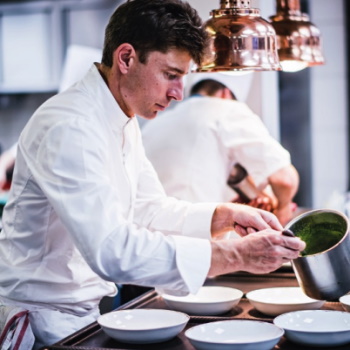 Former chef of the Michelin 2-star restaurant L'Oxalys in Val-Thorens, the chef is used to cooking at altitude: there, everything is different, products interact variously with each other, water boils at a distinctive temperature, cooking time are specific. He has to adapt his cooking techniques and will offer a menu based on local products of the Savoy region for the occasion.
The first idea was to invent a unique and new gastronomical experience, in the highest Michelin star restaurant in the world with view off the lake. The new cable car Les Orelles will allow to reach Val Thorens within thirteen minutes and will be refurbished into an ephemeral restaurant for the event.
To participate to the lottery and book the dinner for four, it is recommended to follow @orelle_les3vallees and @jeansulpice on Twitter, share the post which launched the game contest while adding the mentions @orelle_les3vallees #EspritLibre, so that the participation will be taken into account for sure and cross the fingers.
Photos © Les Orelles, © Jean Sulpice
Cable car Les Orelles >>
Auberge du Père Bise by Jean Sulpice >>
Monday 6 December 2021, 07:09