Organic Michelin-starred cuisine on the ski slopes

The Alto Adige(1) located North of Italy is a gastronomic region, in an unspoilt environment: let's go for a four-course culinary, oenological and athletic(2) tour.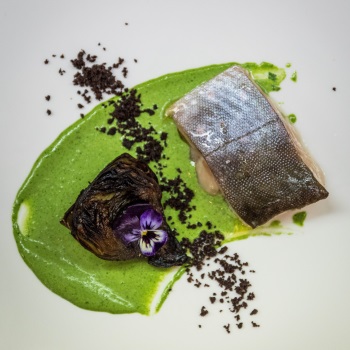 To whet the appetite, as first course was an arctic char fillet, with mountain artichokes, herbed cream and dried olives(3), by the Chef Anna Matscher, whose one Michelin star restaurant Zum Löwen, is located in Tisens near Merano. Her motto: "The origin of products is fundamental to me. The incessant search for fine ingredients, which have to be up to my requirements, has brought me into direct contact with farmers and local producers. The traceability and transparency are the foundations of my work. To flavour her dishes, she uses aromatic herbs exclusively from her personal vegetable garden.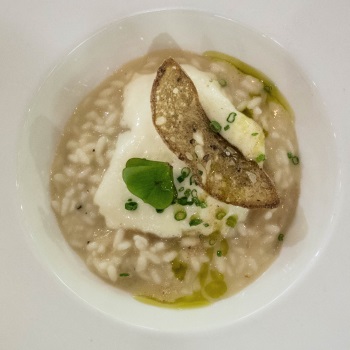 Then follows a risotto with grey cheese from South-Tyrol(4) by Chef Norbert Niederkofler, whose three Michelin stars restaurant AlpiNN, is on mount Plan de Corones: his cuisine is based on the respect of the rhythm of nature and on the balance between the environment and its inhabitants. "I try to talk about the essence of my mountains in each dish, the effort of farmers and ranchers, the quality of their products, the transmission of traditions, the care, the consistency and the lightness."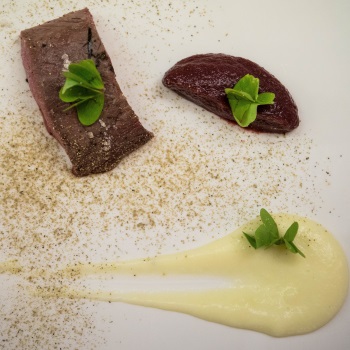 Then comes the poached saddle of deer in a hay bouillon with a beet tartar, a potato cream and boletus powder(5) by Chef Chris Oberhammer, whose one Michelin star restaurant Tilia, is located in Dobbiaco. "Simplicity and respect", this is how Chris Oberhammer describes his culinary vision. "Good ingredients need no excessive decoration but respect." Tilia, the name of his restaurant means linden in Latin, which evokes hospitality, simplicity and tranquillity.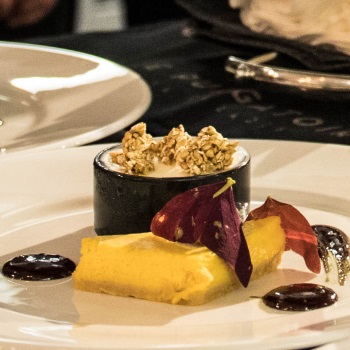 For dessert has been served a sweet potato cheecake with marrow oil caramel and sour cream ice by Chef Theodor Falser, whose one Michelin star restaurant Johannesstube, is located in Nova Levante, in the heart of the Dolomites. "Taste Nature" is the philosophy of his restaurant. All ingredients are selected and hand picked. Everything which is not produced on site comes exclusively from South Tyrol. Each dish is unique between tradition and innovation. "Taste Nature" is a vision of life to enjoy.
(1) also called South Tyrol
(2) The Alto Adige numberes about thirty ski resorts, most of them are part of the Dolomiti Superski area, straddling several Italian provinces.
(3) served with Alto Adige Terlano Pinot Bianco Eichhorn 2018 Manincor
(4) served with Vigneti delle Dolomiti Bianco Manna 2018 Franz Haas
(5) served with Alto Adige Lagrein Riserva Vigna Castel Ringberg 2016 Elena Walch
(6) served with Vino Bianco Le Petit 2016, Manincor
Photos © IDM Süd Tyrol
Zum Löwen >>
Alpinn >>
Tilia >>
Johannestube >>
South Tyrol >>
Friday 11 October 2019, 14:15