Organic shampoo in refillable containers

Lao launches two organic shampoos from hemp and from nettle, for straight and curly hair. The bottles made of aluminium can be refilled at certain hairdressers or in specialist shops.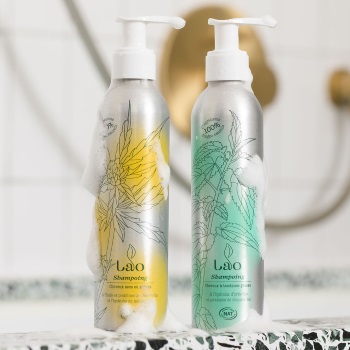 It is a patent on the use of hemp protein as anti-pollution and anti-UVA protecting agent which allowed to make an efficient formulation, tested by an independent laboratory, containing 100% organic ingredients.
Active elements are extracted from plants cultivated in France: hemp is grown ten kilometers far from the brand's office in Strasbourg; nettle used in the purifying care and lemon balm used in the nourrishing formula are hand-harvested inf the south west of France, and then distilled as before in copper stills without chemicals.
Shampoos are Ecocert certified and are free of sulfate, silicone, quaternium, paraben, synthetic preservatives. Containers, made of aluminium, have no label, in order to avoid paper waste and harmful substances contained in glue and solvent.
The foundress Lisa Schino has been working in several luxury brands closely with the scientific department, in charge of cosmetic development. She wishes to finance the reimplantation of a coral reef with the profits earned when at least five thousand shampoos will be sold.
Photos © Lao
Wednesday 23 June 2021, 07:37