Sustainable hyper luxury glamping in Australia, with view off Ayers Rock

Sixteen eco-friendly tents and a pavilion standing lightly upon red sand dunes compose the hyper luxury camp Longitude 131°, adjacent to the Katiti Aboriginal Land and the World Heritage-listed Uluru-Kata Tjuta National Park.

To preserve the environment has been the motto since the setting up: roads and pathways were marked out, fenced and screened and the entire construction process used only these areas to protect the natural vegetation and landscape. When construction was complete, the same roads and paths became the only vehicular and pedestrian access. To minimise the use of concrete and the resultant need for heavy concrete trucks onsite, tents were prefabricated and assembled like a jigsaw puzzle.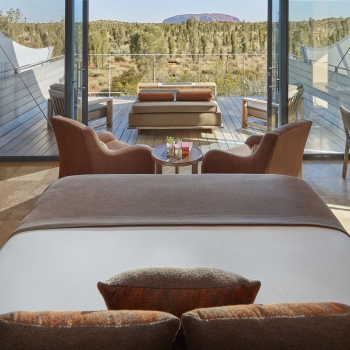 The largest vehicle acceptable on site was a utility, so component parts were limited in size to those that could fit onto the vehicle. A special screw pile construction was employed to install the guest tents, utilising hole diggers and pile applicators attached to the end of a telescopic arm.
Guest tents are designed to "float" above the sandy desert floor. Any sand requiring removal from under the building footprint was removed by hand. The entire property is designed so that it could be dismantled and relocated, with the current location returned to the its pre-developed state.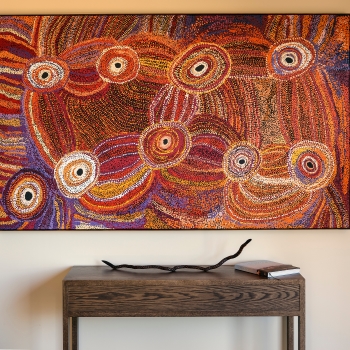 A suite of local designers has been commissioned to create an aesthetic universe in full harmony with the environment: eco-smart campfire, generous shower (rather than a bath) with spacious vanity basin to conserve water in this desert environment mixed with contemporary, handcrafted and outdoor furniture and a bar with some 500 individually hand-painted tiles from Indigenous Arts Community Ernabella along with vibrant Indigenous artworks from communities around the Anangu Pitjantjatjara Yankunytjatjara (APY) Lands.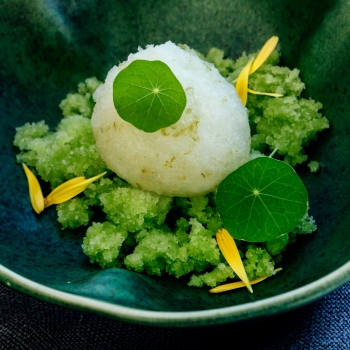 The restaurant serves a contemporary cuisine with a fusion of modern and Indigenous flavours and Australian wines for food and wine pairing. Longitude 131° is a property of Baillie Lodges since 2013 and a member of Luxury Lodges of Australia and National Geographic Unique Lodges of the World. It has been approved under the Commonwealth Environment Protection & Biodiversity Conservation Act 1999 (EPBC) and is part of the National Geographic Unique Lodges of the World.
Photos © Baillie Lodges
Longitude 131° Baillie Lodges >>
Friday 10 March 2023, 09:54