Veuve Clicquot recognizes audacious female leaders

Since 1972, the Maison Veuve Clicquot awards an annual prize for a female entrepreneur in acknowledgement of her boldness, creativity and entrepreneurial audacity, following the example of Madame Clicquot, who took sole possession of the Maison in 1805.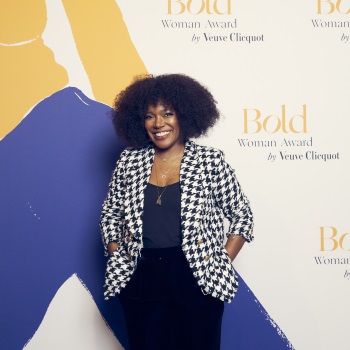 During the event, hosted by the charismatic China Moses, talented singer and daughter of Dee Dee Bridgewater(1), Bold by Veuve Clicquot 2019 has awarded the Bold Woman Award(2) to Chrystèle Gimaret, President of Artupox International and the Bold Future Award(3) to Julie Chapon, Co-Founder of Yuka, to inspire successive generations of audacious female leaders.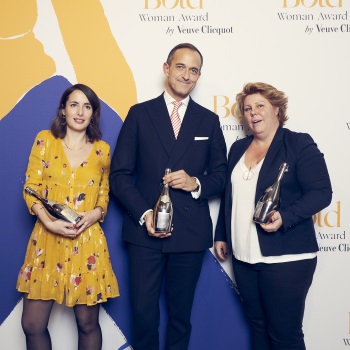 Begun in 2019, the new Bold Champion Award has been given to Frédéric Mion, President of Sciences Po (Paris Institute of Political Studies): this honorary prize, recognizes men who encourage better representation and consideration for women in society through concrete actions. The jury(4) was composed of previous award winners, entrepreneurs, investors and representatives from the Group.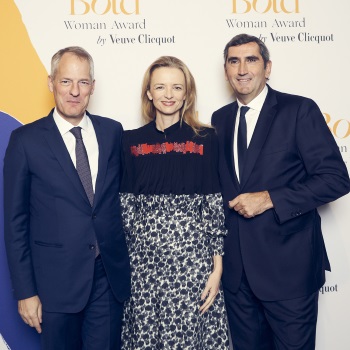 The poster has be designed by Rosie Mc Guiness: "It has been a pleasure to create bespoke works for the Bold by Veuve Clicquot project: drawing the bold woman, composed and natural, with a great presence." The artist painted the illustration with plain colours, using the emblematic solar hue of the Maison de champagne, highlighted by a brilliant blue, which is its complementary tint. The typography chosen for the logo expresses the boldness and the opening to the future, through the triangular basis of its letters and its contrasted full and loose.
Photos : China Moses © Veuve Clicquot, the laureates of the 2019 edition: Julie Chapon, Frédéric Mion and Crystèle Gimaret © Veuve Clicquot, Philippe Schaus, President of Moët Hennessy, Frédéric Mion, Delphine Arnault, Jean-Marc Gallot, President of the Maison Veuve Clicquot © Veuve Clicquot
(1) Veuve Clicquot is Dee Dee Bridgewater's favorite champagne
(2) The Bold Woman Award, which recognizes an accomplished female business leaders, has been donated to Chrystèle Gimaret who created Artupox International, a B-to-B ecological cleaning company in 2005. Her employees (called Kleaners) work during the day, at the same customers' work hours, thus enabling them to reduce time constraints and workplace hardships. In addition, Kleaners use non-toxic products for themselves and the planet.
(3) Le Bold Future Award which recognizes a female start-upper, has been given to Julie Chapon, Co-Founder of the app Yuka, which allows consumers to scan food and cosmetic products in order to learn about their ingredients and has now has 14 million users.
(4) The members of the 2019 edition are: Shanty Baehrel – President and Founder of Shanty Biscuits – Bold Future Award winner 2018, Nathalie Balla – Co-President, La Redoute and Relais Colis – Bold Woman Award winner 2018, Hélène Boulet Supau – Entrepreneur – Bold Woman Award winner 2013, Alice Zagury – President and Founder, The Family – Bold Future Award winner 2015, Julie Hardy – Associate, You & Mr Jones, Marc Menasé – Founder and CEO, Founders Future, Camille Morineau – President and CoFounder, AWARE (Archives of Women Artists, Research and Exhibitions), Fleur Pellerin – CEO and Founder, Korelya Capital, Xavier Romatet – Managing Director, Institut Français de la Mode, Laure Baume – Chief Consumer Officer, Moët Hennessy, Carole Bildé – International Marketing & Communication Director, Veuve Clicquot, Jean-Marc Gallot – CEO, Veuve Clicquot, Philippe Schaus – CEO, Moët Hennessy.
Sunday 17 November 2019, 09:33