Christmas tree designed by Hermès auctioned for charity, on display until January 7th

As a side event of "Solidarity Xmas Tree" which took place in Barcelona, a christmas tree designed by Hermès is displayed in the lobby of the Majestic Hotel & Spa Barcelona, after having been bought by the hotel. The money raised went to support two foundations dedicated to medical research.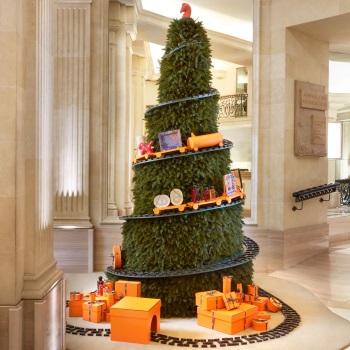 The annual catalan event displays christmas trees designed by luxury brands, to reflect their heritage and more representative values. The fourteen(*) pieces of art have been presented in the glass cabinet of the hotel, from November 27th to December 2nd, 2019 and sold at a Sotheby's auction on December 3rd, during an evening gala at the Majestic.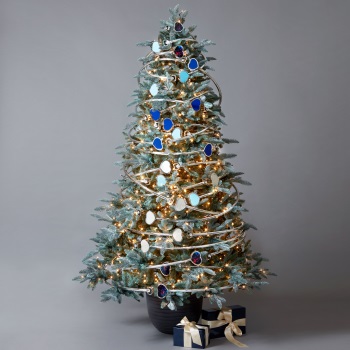 Raised funds have been reversed to the Fondation Pequeño Deseo who helps of children with chronic illnesses and the Fondation Pasqual Maragall who works for Alzheimer's research .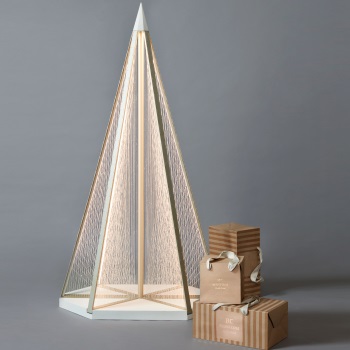 Hermès has designed a christmas tree encircled by a garland composed of a series a "H", on which a small orange train, full of presents, is running up the tree. At a height of three meters, the unique piece is composed of a structure of needles, crowned by the horse's head, signature of the Maison and will be exhibit in the lobby of the hotel until January 7th, 2020.
(*) The fourteen maisons are: Alfons & Damián, Brunello Cucinelli, Cartier, Castañer, Chopard, La Perla, Lladró, Loewe, Luzio, Natura Bissé, Rabat, Santa Eulalia and Zé García Atelier.
Photos of the christmas trees designed by Hermès, Chopard and Brunello Cuccinelli (by order on display in the post) © Majestic Hotels
Majestic Hôtel & Spa Barcelona >>
Fondation Pequeño Deseo >>
Fondation Pasqual Maragall >>
Hermes and the skill factory for schoolchildren >>
Luxury of upcycling by Hermes >>
Friday 6 December 2019, 07:22