Flowers of islands perfumed twelfth night cake, from January 6th to the 20th, 2019

The pastry Chef of the Shangri-La Palace has reinvented the twelfth night cake, by perfuming it with Madagascan and Tahitian vanilla. He took inspiration from the honeycomb cake of his childhood.

All king cake codes have been complied with: puff pastry has been inverted, to be the most friable and goumet.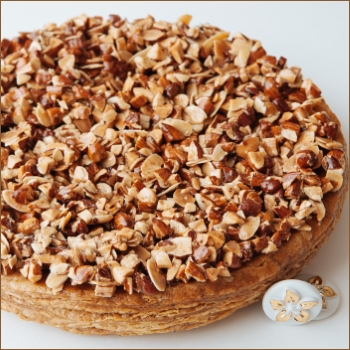 The filling cream is perfumed with a mix of Madagascan vanilla for its spicy aroma and Tahitian vanilla for its floral taste. Ingredients are sourced from local producers, which the Chef had worked with for many years, who grow the plants manually. Vanilla beans used to perfume the filling cream are toasted to be fully mixed up and free up aromas of licorice.
The bean, made from porcelain, is a Bauhinia orchid, identical with the name of the Shangri-La gastronomic restaurant.
Photos © Shangri-La
Shangri-La Palace Paris >>
The Shangri-La is protecting biodiversity and habitat >>
Wednesday 2 January 2019, 10:36