Guerlain exhibits sculptures in recycled materials until November 14. 2021

Guerlain is showing sculptures made of paper, beeswax, plastic, metal, marble or hay in its mansion house located on the Champs Elysees in Paris until November 14th, 2021. The exhibition displayed on two levels merge into the background of the boutique and the spa.
Here one can see an animist totem made of thin strips of paper from an old Scottish bible, as if the artist wanted to reconcile different beliefs in one single piece. There one can watch an unexpected hair brush made of 7-inch hay twigs with a marble handle: this surprising mix of two natural raw materials to make a day-to-day use object as a combination of opposites, opens up to diversity.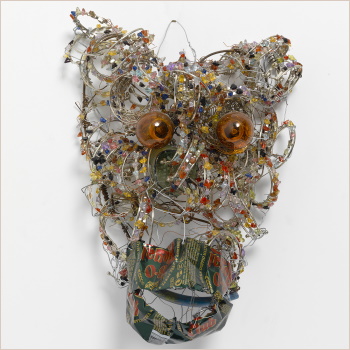 On the wall, an African mask made of collected, welded and assembled plastic, aluminium, copper and glass by a Benin artist, transcends a discredited raw material into an expressive face with orange eyes that express dismay.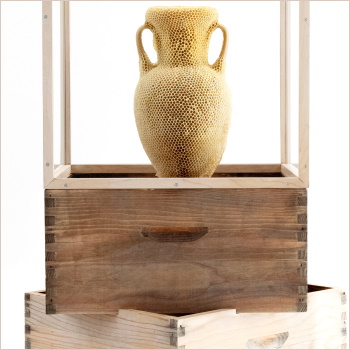 The emblem of the Maison has not been forgotten, witness this amphora of Greek inspiration made by an artist with the help of sixty thousand bees: this involves manufacturing a first mould and place it into the hive, then come back every day to make sure that it is going well unless it is necessary to reshape the mold. Although natural, beeswax is a material of an infinite durability so that the amphora, placed on the top of a stack of hives, becomes a relic for future generations.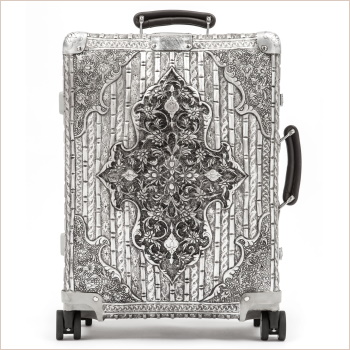 Artists come from all over the world, Angola, Australia, Belgium, Brazil, Canada, China, France, Germany, Lebanon, Netherlands, Portugal, Republic of Benin, Slovakia, South Korea, Spain, United Kingdom and United States.
Photos @ Guerlain
"Quand la matière devient art" until Nov 14, Maison Guerlain, 68 Champs Elysées, Paris >>
Tuesday 26 October 2021, 09:50