Representing a perfume in recyclable material for the Maison Guerlain, until January 6th, 2019

How to sculpt a scent? In what material? With which light? Claudine Dray is presenting her olfactory sculptures until January 6th, 2019 at the 68 Champs Elysées, in the perfumer's historic mansion house, for Guerlain's 190-year anniversary.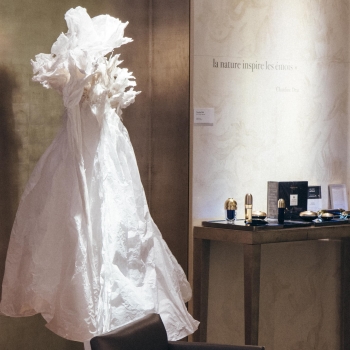 The artist has chosen white silk paper to figure the mayfly of a perfume and reinvent the scenography of the space: paper can be torn, the colour white let the light slide, air is an intangible element and perfume is is invisible to the eye. The exhibition has been completed by poems written by the artist and a live performance given at the private viewing.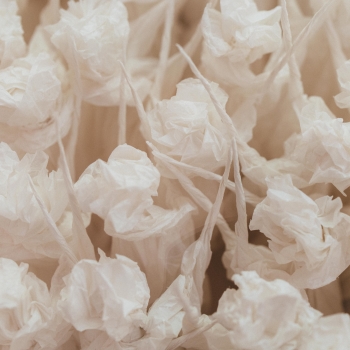 In 1853, when Pierre-François-Pascal Guerlain, created Eau de Cologne Impériale for Empress Eugénie, he decorated the bottle with the bees of the Empire. The Empress, pleased to receive the present, granted him the title of "purveyor to Her Majesty". The "Bee" bottle, which went on to become an icon and the emblem of the House, was born.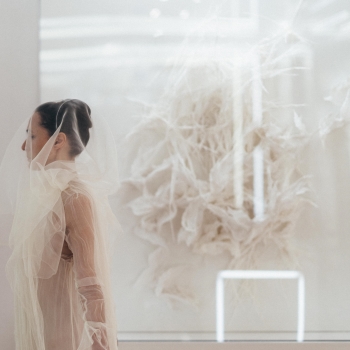 Since then, bees have permeated the history of Guerlain, and drove very early its sustainable development policy: apart from the protection of the threatened specie, the House made concrete commitments to protect biodiversity in France and abroad, on the island of Ushant, to preserve vetiver in India, orchid and Pu Er tea in China.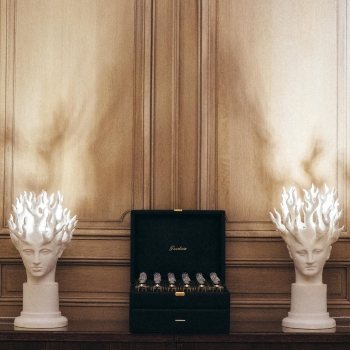 Photos © Pierre Mouton
Exhibition L'Âme du Temps by Claudine Dray at the Maison Guerlain >>
Guerlain is protecting Ouessant Island's Black Bees >>

Thursday 6 December 2018, 13:42