Ruinart's Champagne vineyards are converted to agroforestry

Reforest'Action and the Maison Ruinart have initiated an agroforestry programme where trees and shrubs will be planted in the middle of the vineyards : green islands and bushes will enrich biodiversity by providing habitat for beneficial fauna for grape.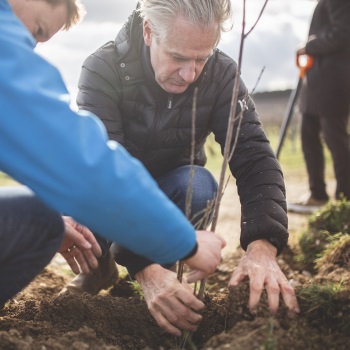 The method consists in mixing wine rows with local tree species, hornbeam, hawthorn, dogwood, viburnum, willow, rowan, beech and linden ; it is also an opportunity for site recolonization by animals whose life cycles favour wine culture : ladybird, lacewing, bird or bat.
Ruinart and Reforest'Action will plant twenty-five thousand trees on the one hundred acre of Taissy vineyards and the luxury house will pull out one percent of vine plants to implement intra-plot hedges. The plan will extend over several years and Ruinart plans to support its grape deliverers to settle similar programmes on their own vineyards.
Photos © Ruinart
Ruinart >>
Reforest'Action >>
Ruinart invents a 100% biodegradable case made from paper >>
Wednesday 9 June 2021, 09:33